Progress Report at February 2018
https://www.facebook.com/mapascotland          https://www.mapascotland.org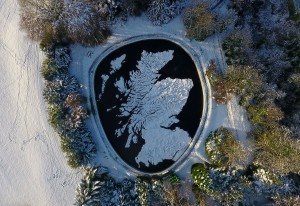 December 2017 – restoration completed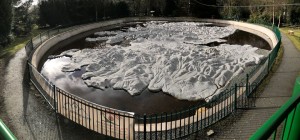 February 2018
                              2011 at start of restoration                                                       December 2017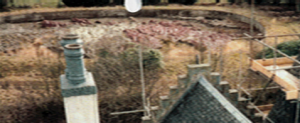 The map in early 1980s after the hotel fire
 Summary
It is 17 years since we started exploring the origins of the map, 7 years since we formed our charity, Mapa Scotland, and 4 years since we secured our grant aid approvals to allow a start to expenditure and actual restoration work. Our heritage, cultural and educational objectives are now in place and have resulted in a very dramatic increase in visitor traffic, local, national and international.  All the major civil engineering work is complete: safety fence; surrounding footpath; water supply distribution and overflow pipework; sea bed sealing and sea areas flooded; foundations repaired and reinforced; information panels and a new viewing tower installed.  The final surface stabilisation, conditioning, vapour sealing and painting was completed in November 2017.  We have now delivered all the objectives declared to our sponsors and grant providers, stabilising and restoring the structure of the Great Map to a better and more advanced condition than when it was abandoned in 1980.  In particular, the map is now stably surrounded by circulating water for the first time.  This was achieved by sealing the porous "sea bed" with sodium bentonite clay. We have established a global communication network based on our website, Facebook site and links to other Polish cultural sites.  These sites publicise the historical and cultural significance of the Great Polish Map of Scotland.
With restoration complete, Mapa Scotland now enters a new phase of care, maintenance and potential further improvement.
Funding, spending and support in kind
During the year we have received numerous donations via post, from our collection boxes at the hotel and at the map.  We have received £6747 gift aid payment from HMRC to 31st March 2017.  This was allocated towards the cost of the viewing tower.  A new grant of £5000 has been donated by Historic Environment Scotland Support Fund and £880 from the Consulate General of the Republic of Poland in Edinburgh.  An extremely generous anonymous donation of £10,000 was received in April and this, along with other donations, has been invaluable towards financing our outstanding work. Materials and support in kind have been provided from many members and well-wishers, including the hotel and staff.  Where specialist contractors have been engaged, local companies have been used wherever possible.  The work in kind from our Trustees and volunteer workforce is valued to date far above our forecast of £100,000 for the duration of the project.  Our accounts are routinely audited and published by the Office of the Scottish Charity Regulator (OSCR).
Licensing and water management
We remove and return water from the Fairy Dean Burn under our abstraction and impoundment licence from Scottish Environmental Protection Agency.  We are operating under our interim licence, to be followed by a full licence when operating experience has been consolidated.  Plant and wildlife are slowly populating the map.  The following have been observed: tadpoles and frogs, toads, freshwater snails (which usefully feed on algae and dead leaves), water boatmen.  These are useful indicators of freedom from toxins.  We have also observed a mouse and a rabbit drowned in transit across the Minch.  Algae growth has been controlled by dosing with barley straw.
Rubble clear up and landscaping
Over the past three years we have removed over 200 tonnes of soil, vegetation and concrete rubble from the pit.  Surrounding footpaths, safety fence and wheelchair access have been installed.  Landscaping has been completed with the rubble being re-cycled as base material for landscaping.  A bench has been installed to commemorate our great historian Kim Traynor, who very sadly died in 2015.  Spring flowers have been planted around the embankments.
Construction and restoration
Repair of foundations with mass concrete plus mortar sculpting of the topography has exceeded 14,000 litres.  Over 300 metres of underground pipework has been replaced and repaired.  A new viewing tower has been designed and installed providing a view of Scotland from a map-scale altitude of 45,000 metres.  Four information boards have been installed.  Surface stabilising and coating of the map topography with three layers of vapour permeable paint has been completed.
Water supply system, leak sealing and testing
We have confirmed that available water supply capacity from the burn is adequate to maintain water level throughout the dry season.  The permeability of the sea bed has been measured at below 1.1 x 10-6 m/s.  The sea remains flooded at all times except for brief periods for maintenance.  In sunny weather, algae tend to accumulate.  This is being inhibited by dosing with barley straw at the intake supply.  Autumn leaf fall onto the map and surrounding sea presents another routine challenge for our working parties.
Media, publicity and education
We continue to give talks to local and national groups about the map and its history.     Visitor traffic has increased very significantly over the year, particularly since we opened the new viewing tower.  We have hosted many visits to the map, including local cubs and brownies, business groups and local and national interest groups.  Local businesses and the army have provided help to us as team training for their staff under their community assistance programmes.   10,000 new publicity leaflets in English and Polish have been printed and distributed to tourist Information offices, local hotels, businesses, libraries and other bodies throughout the region.
Our website is at www.mapascotland.org (with Polish text included), and Facebook site at www.facebook.com/mapascotland.  There is also a Wikipedia site.
Barony Castle Hotel LLP
Barony Castle Hotel is a major partner, supporter and land owner, having provided us with the site lease, support in kind and matched funding of £25,000.  The hotel also guarantees free public access to the map as a condition of our grant-aid obligations to the Heritage Lottery Fund.
The future
The limitations on progress from here on will be future finance and available volunteer effort. Continued improvement of the topography is only limited by those with an interest in the map's historical importance.
Future development will depend upon having local volunteers for routine maintenance and the finance to employ commercial contractors to carry out any major work.  We have a small but immensely valuable income stream from donations and membership subscriptions.   The Mapa Scotland trustees and our very small volunteer group will continue to provide as much as possible for project support.
Keith Burns
for: the Mapa Scotland Trustees: Keith Burns, David Cameron, Roger Kelly, David Peck.
                                       Jan Tomasik                                                     Kasimierz Trafas      
                                                    The men who made it happen in 1975
Time line for the Great Polish Map of Scotland
1974 – 2014
Commissioned: Jan Tomasik, 1974
• Designed and built: Dr Kasimierz Trafas and team from Krakow, 1975 – 1979
• Abandoned early 1980s
• "Rediscovered" late 1990s
• Mapa Scotland restoration campaign launched, 2010
• Debris and vegetation clearance started, 2010
• Mapa Scotland Charity established June 2012
• Main funding in place, November 2013
• Restoration works and heritage research started, February 2014
2014 – 2017
• Safety fence installed, pit wall repaired and rendered, new coping added
• 250 tonnes of debris removed and recycled as foundations for landscaping
and stumperies
• 300m of underground pipework replaced and seabed sealed with bentonite
• All insecure foundations of rusty cans and rubble replaced by frost resistant
concrete; damaged surface repaired with frost resistant mortar
• New viewing tower designed and built
• Heritage Lottery and European Leader Fund completion audits cleared
January 2017
• Map development and heritage promotion continue
• European Heritage Conference, Krakow, Summer 2017
• Royal Geographical Society, London, Summer 2017
• Foundation and topography repairs completed, August 2017
• Surface stabilisation, protection and painting completed, December 2017
• Total concrete and mortar added, 14,000 litres
• Total weight added: 34 tonnes. Equal to a concrete cube 2.4m x 2.4m x 2.4m
Major Grant providers for restoration:
Barony Castle Hotel LLP, Blackwood & Smith, Borders Council, Consulate General of the Republic of Poland in Edinburgh, European Leader Fund, Polish Foreign Ministry, Heritage Lottery Fund, Historic Environment Scotland Support Fund, Landfill Communities Fund, Maczek Memorial Trust, Polish Connections Scotland, Scottish Borders Council, Scottish Polish Cultural Association, Wojtek Trust, two major anonymous donations, and you the public.
Volunteers:
The Mapa Scotland volunteer squad, The Royal Highland Fusiliers 2nd Battalion Royal Regiment of Scotland, EDF Torness, Royal Bank of Scotland, Local scouts, guides, cubs and brownies.
Major Contractors:
Ladywood, Glendinning Groundworks, Differentia Design, Prettybright Design, Gordon Wilson (Peebles), I W Design, Polwork Edinburgh, Elmbank Printing, The Blazing Blacksmith.
For more information:
goo.gl/ofEsa8
goo.gl/ehBxck