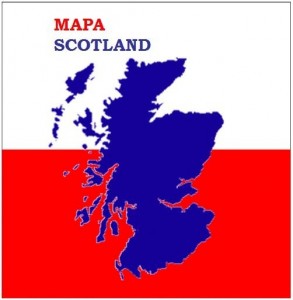 About us
Mapa Scotland is a registered Scottish charity (No. SC043255) made up of volunteers dedicated to preserving and publicising  The Great Polish Map of Scotland, known colloquially as "Mapa Scotland" (Polish: mapa Szkocji).
Chairman:  Roger Kelly
Vice Chairman:  Dave Peck
Secretary:  Majka Koslowska
Treasurer:  Gordon Cameron
Membership Secretary:  Nigel Rose
Maintenance Managers:  Tish and Jim Chalmers
Polish Liaison: Majka Koslowska
Trustees:  Majka Koslowska, Roger Kelly, David Cameron, Keith Burns
ACCESS TO THE MAP IS FREE TO MEMBERS OF THE PUBLIC
Learn more about current progress of the project or the history of the map and the role of Polish forces in wartime Scotland by exploring our website.
To inquire about membership or progress of the project, click here
 ***************