Newsletter – February 2014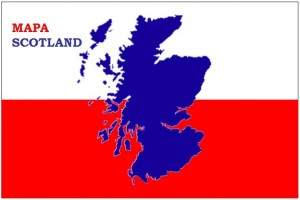 Welcome to our latest newsletter and apologies for the absence of communication over the winter. We've been very busy on a number of fronts, and I'm afraid the newsletter has been the victim of this.
Funding Package
In October we secured grant offer from Scottish Borders Council and the European LEADER Fund. This completed our funding package for the Mapa Scotland heritage project including restoration work on the Map. Our major grant providers are Barony Castle LLP, Consulate General of the Republic of Poland in Edinburgh, European Leader Fund, Heritage Lottery Fund, Polish Connections, Scottish Borders Council Landfill Communities Fund and Community Grant Scheme.
This has enabled us to purchase equipment to speed up the cleaning process and over the last few weeks we have built a shed which means we have a store on site as well as a shelter when the showers hit us.
Restoration
A small team of members have been working over the winter to clear the moss and weeds from the map, and also to repair pipework to restore the flow of water to the rivers, and to allow us to fill up the seas.
In the middle of February Soldiers from 2 Scots, Royal Regiment of Scotland, based at Glencorse Barracks, Penicuik joined us in our efforts to clear the map. Their efforts and expertise will be invaluable over the next few months as we begin the actual restoration work and the reconstruction of the original contours first developed in the 1970s.
Marketing and Interpretation Project
In October we were awarded a grant to develop a new website for the map, onsite interpretation panels and leaflets in English and Polish for distribution throughout the central belt, Lanarkshire and the Borders. This project is part-financed by the Scottish Government and the European Community Scottish Borders LEADER 2007-2013 Programme. Differentia Design Consultants have been commissioned to lead this work, which is progressing well. The website is operational, although some areas of it are still under development, the panels are being manufactured and the leaflets are at a draft stage. You can see the website at www.mapascotland.org
AGM
It is intended to hold the AGM in April or early May. Why don't you come along and find out more about what is happening and how you can get involved with the project. More information soon………
Joining Us
Please join us in our efforts to restore The Great Polish Map of Scotland. For more information, contact us at enquiries@mapascotland.org