Progress at December 2014
1.  Introduction.
It is now 12 months since we secured our grant aid to allow a start to expenditure.  Before that, we were limited to clear-up work and damage limitation that we could carry out without spending money.  The clear-up work continues and our media and education programme is growing. We are buying tools and major plant items, and using contractor support where possible.  Good summer weather has been a major help.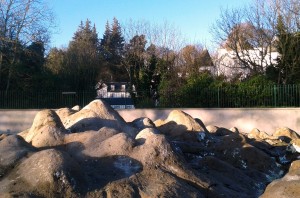 2.  Funding, spending and support in kind.
During the year we received a new grant of £3000 from the Polish Foreign Ministry towards sea-bed related hydraulics work.  This is an item for which we under-budgeted due to the unexpected discovery of significant permeability of the sea bed areas.  We have also received numerous smaller donations, materials and much support in-kind from many members and well wishers.  Where specialist contractors are being used, local companies are sought wherever possible.  This contributes to the local economy.  The work-in-kind from our Trustees and Steering Group is valued at a minimum of £100,000 for the duration of the project.
3.  Licensing
During the year we secured an abstraction and impoundment licence from the Scottish Environmental Protection Agency (SEPA) to draw water from the Fairy Dean Burn, and return it.  This took the form of an initial interim licence followed by a full licence dependent on installing a passive control weir at our intake point. The design for this weir is under development.
4.  Rubble clearance and clean-up.
This is a process without a clear end.  During the year we have removed over 120 tonnes of soil, vegetation and concrete rubble from the pit.  This was helped enormously during the spring by the involvement of the No. 2 Scots Royal Regiment of Scotland from Glencorse Barracks in Penicuik.  Their return to Afghanistan for more important duties was a sad loss to us.  However, their return will hopefully mean we can re-establish our alliance with them.  A new pressure washer augmented our manual cleaning operation and accelerated the removal of 40 years of moss, weeds and atmospheric pollution staining of the concrete.  At year-end we are about 95 per cent complete with major surface clean up.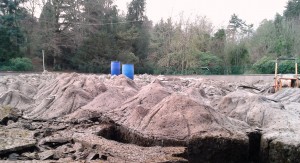 5.  Construction and restoration progress
As an important precursor to major work, we installed a site workshop and office base.  Plant and equipment have been procured.  We continue to rely crucially on volunteer labour, but we must recruit more.  By Easter we achieved major milestones with the installation of a new safety fence around the pit, and three information panels telling the story of Barony Castle's wartime background, the commissioning of the map in the 1970s, and the current plans for restoration by Mapa Scotland.  With improving weather, the 155m circumference pit wall was fully restored by pressure cleaning, re-covering with 3 coats of reinforced render, new in-situ cast-in coping and bottom corner fillet for future sealing to the seabed.  Repair of damaged foundations has been in progress since early autumn, with over 8000kg of concrete poured to date.  The main east and west coast supply pipes have been installed below the North Sea and Hebridean Sea.  Footpath foundation reinforcement is in progress using recycled rubble.  The major 100km Ordnance Survey northing and easting grid lines have been surveyed and marked in preparation for topography repairs.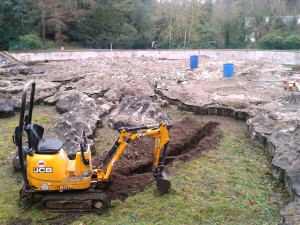 6.  Restoration of water supply system
Three major repairs to serious underground leakage have been completed, providing full pressure head to the map for the first time since 1975.  Blockage of the overflow pipe has been cleared, but we still have to locate and restore the outfall end in the Dean Burn ravine. .
7.  Media and Education
We continue to give talks about the map and its history.  There was another Polish reception at Holyrood on May 6th hosted by Christine Grahame MSP and the Polish Consul General where we exhibited along with the Polish Scottish Cultural Heritage and the Vojtek and General Maczek statue projects.  BBC TV spent three days location filming at the map for a forthcoming (Jan 2015) TV feature on the map and its history.  Dutch TV spent a day filming about the Polish Army presence in Scotland during the Second World War.  This was part of the commemoration of the 70th anniversary of the liberation of Breda by the Polish 1st Armoured Division under General Maczek's command.
Members have given talks to North Berwick Round Table, Tweeddale U3A, Royal Scots Regiment at Glencorse Barracks, Scottish Polish Heritage, State of the Map of Scotland Conference, 9th International Conference on Ultrasonic Biomedical Microscanning,and hosted many other visits to the map, including local cubs and brownies.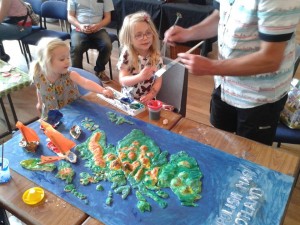 We have launched our new website at www.mapascotland.org (with Polish text also) and a Facebook site at www.facebook.com/mapascotland .  We have also authored a Wikipedia page.  Over 6000 new publicity leaflets have been distributed in Polish and English throughout the Borders and Central Belt.  The new information panels at the map are intended to introduce visitors to the project and direct them to the website for more detail.
8.  Barony Castle Hotel  LLP
Barony Castle Hotel is a major partner and supporter, providing us with the site lease and matched funding up to £25000.  The hotel also guarantees free public access to the map as part of our grant aid obligations.
 9.  Future priorities.
The past four years has focussed on site clearance and securing grant aid.  Our next priorities are to continue equipment and materials procurement for the restoration work.  A crucial priority from here on must be to increase our membership and particularly our volunteer labour force, on whom we depend for timely completion of the map's restoration.